Low Rate Guarantee:
Peace of mind for you and your business.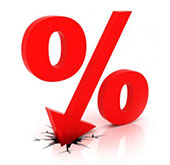 Our low rate guarantee:
No teaser rates.
No "bait and switch" pricing.
Full disclosure of fees up front.
Month to month agreements.
ZERO termination penalty.
ZERO application fee.
ZERO annual fee.
FREE phone training.
Quick Answers:
We promise you that we'll never raise your rates out of a self-serving profit motive. Periodically, however, Visa / MC / Discover may raise their fees industry-wide. Although we campaign to keep your rates as low as possible, we have no control over industry-wide changes.
A "teaser rate" is an attractive rate quote which does not accurately reflect the overall cost for processing all card types. Example: "rates as low as 0.39%!" The hidden message here is that this one low rate applies only to one card type, and you'll most likely pay a premium on all other card types. Beware of the offers that only tell a part of the story. We pride ourselves on full disclosure of rates and fees so there are no surprises.
Some unscrupulous paymet processing providers will lure you to the table with an attractive offer, and then raise your rates a few months after setup because you are "under contract." Our agreements are month to month, so we have to win your business every day. Full disclosure and consistency is the key to our success.
We'll show you the full schedule of fees before your account goes active, and you can always rely on our month to month agreement with no termination penalty. We want to win your business over and over, not just the first time.